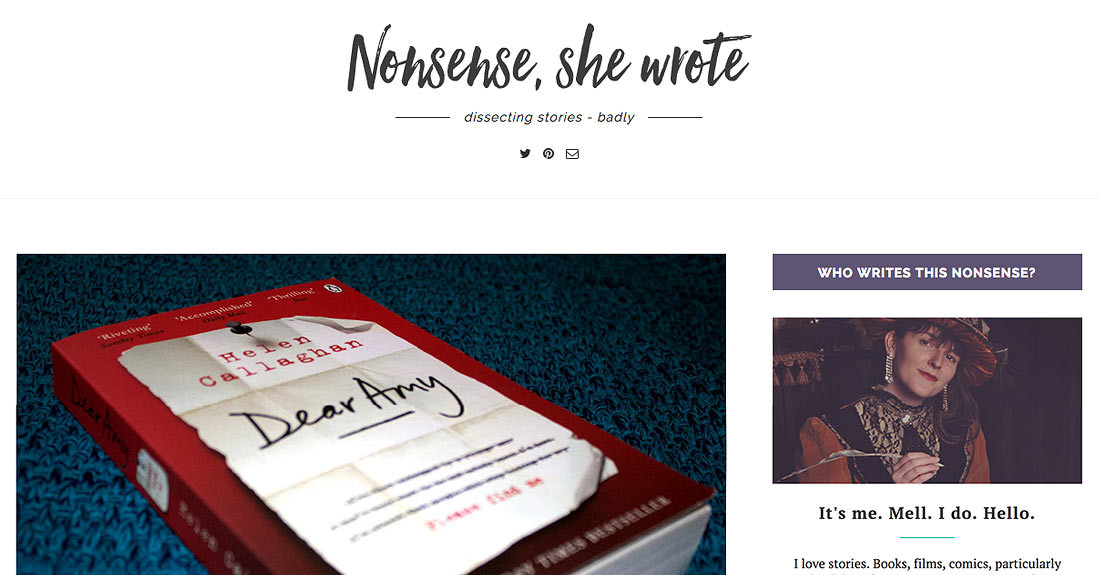 I've been reading a lot, lately. I think it's important to read while you're writing, to get outside your own narrative and see what other writers are doing, to spot the pitfalls and… whatever the opposite of pitfalls are, and bring the lessons into your own writing.
When your writing is as nuanced, as literary and intellectual as mine is, that's especially important.
So, a few years ago, I decided I ought to keep a blog about reading and writing: NonsenseSheWrote.com.
I wrote up a review of Miss Peregrine's Home for Peculiar Children. I talked about the trouble I had picking character names and trying to handle a story idea I couldn't write but couldn't exorcise, either. And I'd scribbled down ideas for other blog posts – a half-written review of Across the Universe which goes into a lengthy discussion of how I found out Santa wasn't real. Notes on TV's Sherlock.
The real problem is how inconsistent the characters are. The truly cynical might say that's proof that Moffatt and Gattiss are being *really* faithful to the original stories – Sir Arthur Conan Doyle wasn't exactly known for his consistency.
Though the true highlight is this little indecipherable gem:
Show and tell When you can, and frankly should, break the rules

HP PoA as example, Ron on telephone
I genuinely do not know what that means, but I'm excited to find out.
Still, as many… clearly great ideas I had for content, the idea fell by the wayside; I joined a writing board and focused my energy on that. I moved in with my partner. I changed jobs.
And then I decided to build Cuthbert, and made a whole new blog about doing that.
Don't click the link – it's blog-ception!
But I haven't stopped reading, or watching films, or playing particularly in-depth board games. I haven't stopped looking at how other people put together a story, and I haven't stopped trying to learn from it.
So, I've decided to dust off the blog and post more regularly to it, and feel that will, in some way, be a good thing.
(Plus, I'd already renewed the domain, and I had to do something with it.)
I've written up some thoughts on the latest books I've read, The Woman in Cabin 10 (good) and Dear Amy (nooot so good), and I'll keep posting my latest rantings and ravings here, too.
Check them out!
(Or don't. I don't have that kind of authority over you.)